
Managing Images Assets
A centralised location to easily manage the image assets in your mobile solution
Introduction
The image asset manager summarises all image assets across your solution from your iOS and Android projects.
As a developer, you gain a birds-eye view of all image assets in your solution and that then allows you to delete, import, search and optimise all images from a centralised location.
Opening The Image Manager
The image manager is presented as a pad on the IDE by default on the right side of the Window, below the Toolbox, Properties and Document Outline pads. You can access it from several places if hidden:
Top Menu
By acessing the top menu selecting the Manage Image Assets options.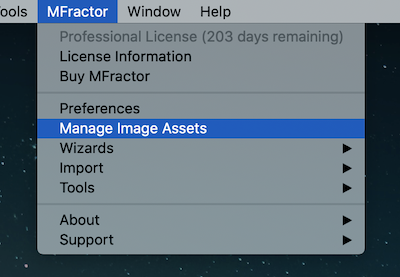 Solution Pad
You can right click on a Xamarin.Android and Xamarin.iOS project file and you'll find Manage Image Assets under the Tools menu.
Alternatively, double click on and Android or iOS image asset. This will open the image manager, selecting that image in the list.
Overview
Filtering Image assets
Importing Image Assets
Deleting Image Assets
Optimising Image Assets
Searching For Image Usages
Visual Studio Mac Only
Drag And Drop
The image manager supports drag and drop from the image asset list onto a code file.
When you drag and drop an image onto a code file, the image manager will generate code to access that image.
For example, given the image logo.png, MFractor will insert the following code:
Android AXML: @drawable/logo.
Android C#: Resource.Drawable.logo.
XAML: logo.
C# (Xamarin.Forms): "logo.png";
Context Actions
In both the image asset list and the image density list, you may right click on any item to launch a context
Delete
Please see Deleting Image Assets
Reveal In Finder/Explorer
The Reveal In Finder action will open Finder (Mac) or Explorer (Windows) and select that image.
Reveal In Project Pad
The Reveal Project Pad action will locate the image file in the solution pad.
Copy Name To Clipboard
The Copy NameTo Clipboard action copies the full file path of that image file to the clipboard.
Copy File Path To Clipboard
The Copy File Path To Clipboard action copies the file path of that image file to the clipboard.
Optimise
Please see Optimising Image Assets
Open Image
The Open action opens the selected image file in the operating systems default image viewer.
Search For Usages
Please see Searching For Image Usages
Comments